Zen Promotional are a promotional products manufacturer based in Mildura, Victoria, Australia that specialise in the development, design, digitising and supply of a full range of embroidered patches and badges.
If you're looking for affordable embroidered badges and an unbeatable, friendly customer service, then you have come to the right place. Our sole aim is to make the production of your patches and badges and easy process that will take up as little of your lime as possible.
Simply send us an email or give us a call and one of our helpful staff will be on hand to respond to your request and to assist you with your ideas, wants and needs.
Whether you're after a single printed patch, a batch of embroidered uniform patches or even some military badges or motorcycle patches, Zen Promotional will make manufacturing your patches and badges a snap.
We have been manufacturing all types of embroidered patches and badges for many years for a whole host of applications. We have manufactured sports patches, band patches and badges, patches for small business, large companies, luggage and clothing manufacturers, sporting clubs, non for profit organisations, tourist information centres and social kids clubs such as the Scouts and Girl Guides. To put it simple, patches are what we do best.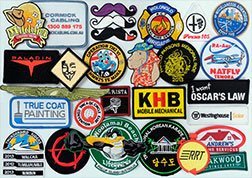 Copyright © 2014 embroidered-patches.com.au