If you are looking for a reliable Australian manufacturer of quality custom printed patches and dye-sublimation patches then Zen Promotional is the company you are looking for. You can order your printed patches here and receive them in as little as 24 – 48hrs on request. If you need to get started fast or need more detailed information you are welcome to call one of our friendly staff on (03) 5002 0442 or (02) 9011 7057 from within Australia or on +61 3 5002 0442 or +61 2 9011 7057 from outside of Australia during normal business hours, AEST.
Based in Victoria, Australia Zen Promotional are a premium promotional products and printed patch supplier. We are able to offer free setup and delivery not only to our Australian customers, but also customers in most other countries around the world including New Zealand, USA, Canada, UK, Scottland, Ireland, Europe and the UAE just to name a few. Average manufacturing and delivery times for Australian orders are 3 – 7 working days. Average manufacturing and delivery times for global orders are 7 – 14 days including weekends.
Our printed patches are suitable for a large range of applications including, uniform patches, name patches, sporting club and sports event patches, award or milestone patches, conference patches and cover up patches. If sewn onto a uniform they are easily removed if the garment is damaged and then sewn onto the new garment, saving the cost of having the new piece of clothing embroidered. Our patches are also great as a cover up for sponsors logo's on football guernseys, when there is a sudden change to a clubs sponsors. This saves the replacement of the expensive clothing.
Introduction of an iron-on backing, Velcro or a temporary Peel & Stick backing allows fast application of a brand or logo to any piece of clothing, cap, hats or baggage with a simple home cloths iron.
Printed patches are extremely versatile, tough and durable. Even under the toughest outdoor and commercial washing conditions they will not easily fade or discolor. With standard and heavy duty commercial grade fabrics we manufacture logo and name patches for commercial laundries, small and large business and many sporting clubs. Many of these organisations choose to use printed patches as their artwork and logo many not be suitable for embroidery or they may need them in a hurry. All of the standard backings and borders that can be applied to embroidered patches can also be applied to printed patches. Our printed patches are also Australian made guaranteeing you only the highest quality product .
Preparation of artwork requires that you provide us with your printed patch artwork in either vector format such as AI, EPS, layered TIFF or PDF or a high resolution raster format such as a JPG, TIFF or a PNG file. Vector artwork is always preferred as this allows us to make changes more easily if required. We can either layout the artwork for you or we can provide you with the template file for you to layout your own artwork.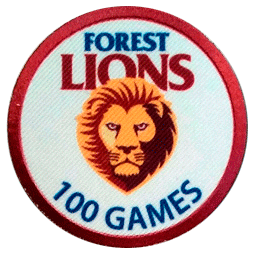 Artwork assessment before placing an order is free of charge. This allows us to let you know if your artwork is suitable to make into a printed patch or if a higher quality artwork file is required. We will also assess it for any potential design issues. Generally any small design changes are made free of charge. If major design changes are required to prepare your artwork for print, surcharges may apply.
All printed patches can be manufactured using the follow set sizes. 40mm Dia, 50mm Dia, 60mm Dia, 70mm Dia, 75mm Dia, 80mm Dia, 100mm Dia, 100mm x 30mm, 100mm x 40mm, 100mm x 50mm, 100mm x 70mm, 75mm x 75mm, 75mm x 20mm, 75mm x 30mm, 75mm x 40mm, 75mm x 50mm, 50mm x 20mm, 50mm x 30mm, 80mm x 60mm oval patch, 300mm x 140mm back patch, 75mm W x 29.5mm H Rocker and 75mm W x 33.5mm H Rocker. If none of these sizes are suitable and you would like to order a custom size or shape, simply give us a call to discuss your requirements. Minimum order qty for our in store size patches is only one piece. Minimum order quanity for your own custom size or shaped printed patches is 25pcs. We can make any size and shape printed patch up need, all teh way up to 380mm x 380mm in size.
Our printed patches are made of a 100% polyester twill with a laser cut satin stitched border. As standard these are required to be stitched on just inside the border using a clear polyester thread. Iron-on patches are also available for an additional surcharge. The iron-on heat seal allows the patch to be quickly and easily bonded to most surfaces including items like t-shirts, work shirts, hats, suit cases, backpacks bags and most other types of promotional clothing.
We take quality control very seriously. We have a multi stepped QC process to make sure that no mistakes are made in the manufacturer of your patches.
We offer a 100% replacement guarantee on all of our embroidered patches. If your patches are faulty, or there is a mistake in the patch design or if your patches are not exactly what you ordered then we will happily remake and replace your order for free.
 **Replacement guarantee subject to manufacturing tolerances
If you would like to check out the quality of our workmanship before making a purchase then why not contact us to request some free samples. Simply call us on (03) 5002 0442 or (02) 9011 7057 to order yours today.
Are printed patches right for me?
This mainly depends on your design and intended application. If you want the nice look of embroidery and you are willing to compromise on artwork modifications if required, then embroidered patches are most likely for you. If you have very detailed and complex artwork that cannot be easily modified without taking away major elements or the look of your design then printed patches may the right choice.
Limitation of Printed Patches
In relation to your artwork or design printed patches do have some limitations. Due to the fact that we are sublimating / printing onto a poly-ester twill base, the resolution of the print will not be as high as if it were on paper, however the vividness and brightness of teh inks colours will be better than waht can be achieved with a standard printing printing on normal paper. As sublimation printing turns a solid, in this case the ink into a gas we can occasionally have issues with very fine lines such as a fine white line on a black background. To avoid these problems we rccommend that you increase you line weight to a minimum of 0.5mm in these circumstances. However if you are printing a fine black line on a white background then generally fine lines will not be an issue.
When it comes to gradients, where one colour blends into another, custom printed patches are king. Gradients are not an issue with printed patches. In fact we can produce any gradient with greater vibrancy than any paper based print.
When it comes to manufacturing a high quality product, the type of materials you use will play a large part in not only the overall look and feel of the patch but also the longevity, washability and its ability to stand up to the wide variety of applications that they can be used in. Zen Promotional only use the best quality polyested, sublimation inks, release papers & iron-on heats seals. Our printed patches and sublimation inks have good UV resistance, so your patchs will last as long as your uniform. Our patches are designed to stand up to commercial washing and will not release dye or stain your other garments. Our iron-on heat seal is an imported product from the USA which has excellent adhesion compared to other cheaper heat seals.
Custom printed cloth patches can be used for many applications. Their main use is for branding of clothing, such as emergency services, commercial and military uniforms, hats, work wear, sportswear and branded clothing lines. However they can also be used for branding luggage, bags or other items where a high quality logo or brand is required.
Ordering your printed patches an easy process. Simply call us on (03) 5002 0442 or (02) 9011 7057 (Mon – Fri, 9:00am – 5:30pm AEST), or visit our contact us page. Alternately you can save time by ordering direct from our printed patches page here https://zenpromotional.com.au/patches-badges/full-colour-printed-patches.html. If any of these methods are unsuitable please email us and let us let us know your phone number, the size of the patch you would like, the number of pieces you require and the backing you would like, such as sew on or an iron-on heat seal. It is also helpful if you can email us a copy of your artwork or design so we can give you a more accurate quote. We usually respond to 90% of enquiries within 1 hour or less during business hours.
Copyright © 2014 embroidered-patches.com.au
Copyright © 2014 embroidered-patches.com.au